CCRT
Computing Center for Research and Technology
The Research and Technology Computing Center (CCRT - Centre de calcul pour la recherche et la technologie) has been set up to provide High Performance Computing resources for large scientific computations and to foster a real synergy between research organizations, universities and industry by promoting exchanges and scientific collaboration between partners. CCRT partners can benefit from a rich environment including HPC expertise and continuous technology watch performed by CEA teams.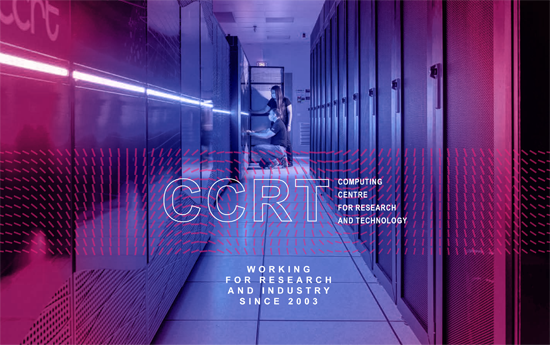 CCRT presentation brochure
CCRT gets a makeover, boosts computing power with a new system
August 2021
In 2021, CCRT is renewing its computing and storage resources : Topaze is its new 8.8 petaflops peak supercomputer.
Topaze predecessor, Cobalt, had been installed in 2016. After more than five years of operation, it was replaced by a nearly four times more powerful computer, supplied by Atos following a call for tender. Topaze relies on BullSequana technology, which combines density and energy efficiency: this technology is the outcome of joint research and development by CEA and Atos. Topaze has an increased general purpose computing capacity (864 compute nodes based on AMD Milan processors with 264 GB of memory each) and an accelerated partition (48 compute nodes based on Nvidia A100 processors). These enhanced resources pave the way to new application areas, such as artificial intelligence, while suiting the needs of all CCRT partners. Topaze compute partitions come with a storage capacity of 2.9 PB and a bandwidth of 280 Gb/s.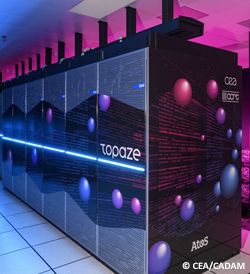 In order to maintain dynamic exchanges between its partners, the CCRT organises annual conference, dedicated to users describing their scientific results, and technological workshops on innovating thematics (GPU or cell accelerators, Green IT, new programming algorithms, etc.).