MIRAGE
large very high definition display
Numerical simulation depends on computer programs, which are being run on increasingly powerful computers. Hence, these programs are simulating physical phenomena in ever increasing detail, with discretised data and results. The numerical simulation manifests itself through visualization of the physical phenomena on a screen.
The CEA/DAM decided to equip a visualization facility with the high-performance MIRAGE (Mur d'image à résolution augmentée et grande échelle - a higher resolution large-scale video wall), suitable for the extreme size of the finite physical phenomena being investigated. Installed as close as possible to the engineers, it is connected to the computing centre's high-speed network.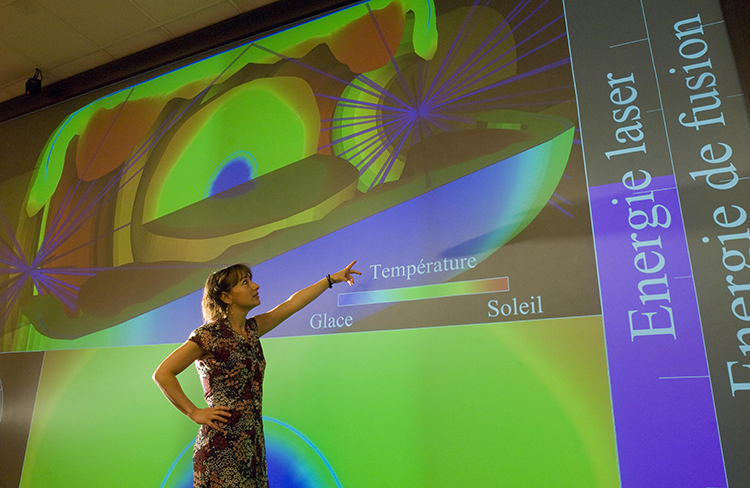 Mirage video wall, Bruyères-le-Châtel. © CEA
The Mirage large very high definition display1 is 5m wide and 3m high. Since it was commissioned in 2002, this is its third configuration. The screen is now brighter (155 candelas / m2 instead of 46 candelas / m2). The projectors Barco 3DLP Galaxy NW-7 - 9 stereos instead of 2 x 12 mono - also get a more flexible maintenance. The resolution has also been improved, with a definition exceeding 14 million pixels (5,088 x 2,800).
For some animation configurations, such as very high resolution movies, the display is piloted by a high-performance graphics server with 18 video outputs to directly control the 9 stereoscopic projectors (1 image per eye).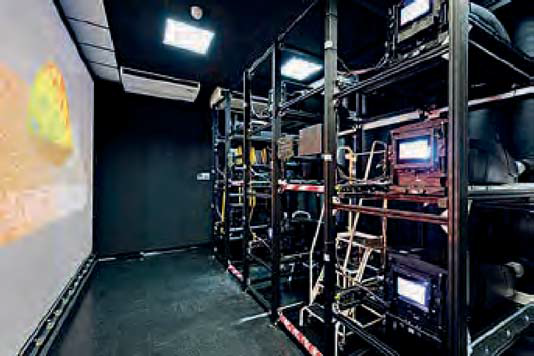 Mirage backstage, with its nine projectors.
The Mirage facility allows DAM teams to present and compare the graphical results of their simulation calculations during project reviews. Equipped with 10 stations connected to the scientific network and an autonomous PC, it also makes it possible to organize general or specific training courses in connection with digital simulation. The facility is also used to present the activities of CEA-DAM to a wider audience of visitors, as well as to a smaller audience of personalities.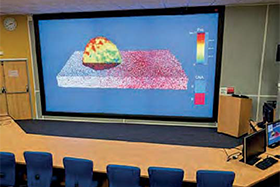 The Mirage Room and the video Wall.
On screen, result of a calculation simulating the graphite / diamond transition in an inclusion of carbon immersed in a copper matrix subjected to a shock.